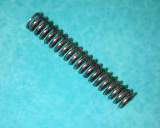 Mike Stegmann, working for Latus Motors, recognized the need to increase oil pressure when performance improvements were made on the Twin Cam motors. This spring was developed by Mike and is now available to the public. Hence the 'LMR' (Latus Motors Racing) spring.
This spring is 15% stronger than the stock OEM spring.
Fits 1999 and later Twin Cam A and B motors.
Any Twin Cam motor will benefit from the installation of our spring but it was designed for those with high lift cams and higher valve spring pressures. As the valve spring pressure goes up, this puts more stress on the hydraulic lifters to maintain zero lash.
Cams with aggressive ramp designed make it difficult for lifters to follow the lobe profile when they bleed off too quickly due to inadequate oil pressure. This can result in valve train noise and performance loses. An increase in oil pressure helps overcome this added stress for a quieter valve train and engine.
Oil pressure losses due to looser tolerances on some high performance parts or applications (such as high volume cooling jets used big bore engines) will see restored oil pressure throughout the oiling system.
LMR's spring features square and ground ends to ensure correct pressure when installed against the retaining roll pin. The stock spring installed length can vary by as much as .030 inches depending on where the end of the spring rests against the roll pin. This can cause oil pressure to vary.
Another feature is the greater coil count for a more progressive rise in pressure as motor RPM's increase. Great to use with Fueling (reg.) Oil Pump or Delkron (reg.) Cam Support Plate.
Designed, engineered, and manufactured to their specifications for this application- this is not a "hardware store" spring. We will be glad to help you make sure it is the right spring for your set-up.