Dan Baisley: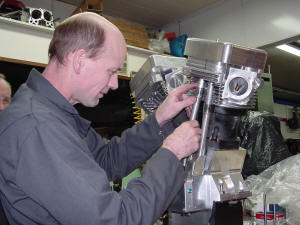 Dan joined his father, Wes Baisley, as a founding partner of Baisley Hi-Performance in 1973. Dan takes care of the business side of the daily operations. He does all porting on Pro Street, Hybrid and Pro heads. Similar to Vicki you will also often here Danís voice when contacting the shop by phone.
Dan started displaying his ability to ride on the tarmac at Woodburn drag strip at the age of 18. Danís race career started on a 1961 Harley Davidson Sportsterģ. Working with his father, Wes, to develop the power that translates to an ever escalating need of adrenalin rush at record breaking speed and acceleration, together they have refined the art of cutting edge performance now available to customers.
He does still make the occasional pass down the track; see 2007 Bub Salt Flats Speed Trial Results for one of his recent runs.
Wes Baisley: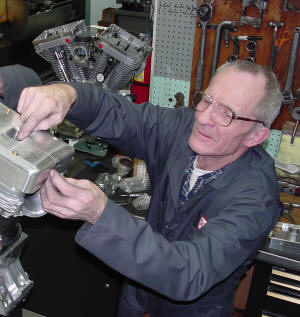 Wes (father to Dan and grandfather to Ryan and Nick) joined his son, Dan, at a founding partner of Baisley Hi-Performance in 1973. Wes is the engine builder at the shop. Wes also applies his talents to create special tool fixtures to continually expand the services and abilities of the shop. Wes has proven over and over through the years that he can do just about anything with metal. He works with or has a hand in all of the equipment in the shop. He can look at a problem and come up with a simple solution to fix it. Dan, says the business would never be where it is today without what his father, Wes has contributed in time, talent, and innovation.
Wes grew up in Oregon, where he ran a Harley Davidson dealership from 1959-1963 in Burns. A machinist by trade, inspired by his sonís racing habits; use of his machinist skills toward motorcycle performance improvements was a logical next step.
Wes has made a name in the industry for pioneering roller rocker corrected geometries with proven repeatability in performance improvements.
Ryan Baisley: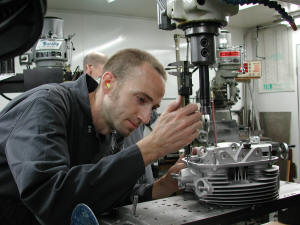 Ryan, Wesís grandson, joined the team in 1996. Ryan sets up rocker arm conversions and corrected geometry conversions and does the welding that defines the new rocker arms. He also applies his welding expertise on heads and crankcases where needed. Ryan also runs the CNC mill and lathe. He also applies his abilities to performing most of the Super Stock head porting.
Nick Baisley: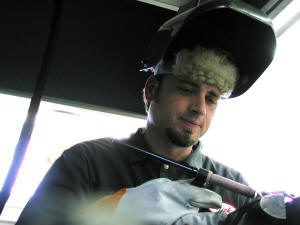 Nick, Wesís grandson, joined the team in 2007. As the newest member of the team, works alongside Ryan welding rocker arm conversions and corrected geometry conversions.
Don Wear: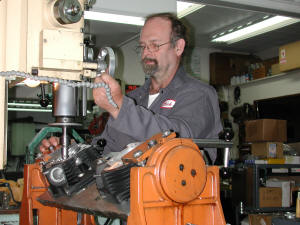 Don joined the team at Baisley Hi-Performance in 1994. Don focuses his talents on the DCM head seat machine. He does the seat work on all heads from stock to the Pro nitro heads. When special order valves and seats are needed Don is the person to make them by using his talents on the lathes and mills to deliver exactly what is needed. Don also sets up the heads for final assembly before shipping.
Thanh Le: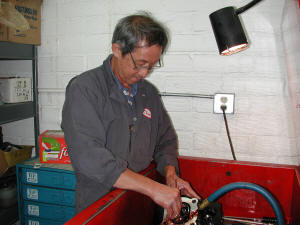 Thanh joined the team at Baisley Hi-Performance in 1995. Thanh takes care of all glass beading requirements. He does the grinding work on the roller rocker arms and final roller rocker assembly. Thanh helps keep the shop looking professional by keeping the shop picked up, equipment clean, and taking care of the plants.
Vicki Gudgel: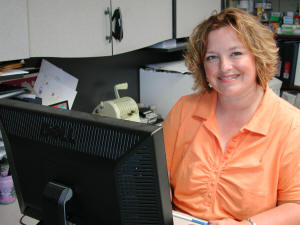 Vicky has been a key member of the shop since 1995. She supports all aspects of the business operations by taking care of computer invoicing and the shipping-receiving. Vicki is the friendly voice you will often hear when you contact the shop by phone.